Next to Voidomatis river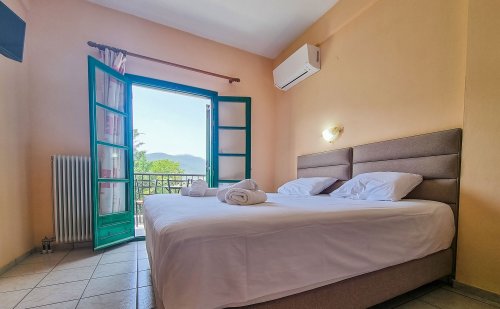 Hotel Spιridoula is located in the village of Kleidonia in Ioannina, in a beautiful location next to Voidomatis river and the famous single-arched stone bridge (1853), the bridge of Kleidonia. At a distance of 1km from the hotel flows the river Voidomatis with its crystal clear water inside the gorge of Vikos which is the deepest and longest gorge in Europe.
Next to us are the 45 picturesque villages of Zagori or otherwise Zagorochoria. The first village of Zagori is Aristi at a distance of 10 minutes and follows Papigo, Vikos, Monodendri, Vitsa, Tsepelovo but also Konitsa with the also beautiful gorge of the river Aoos.
In Konitsa, as the largest city in the area, you can find better and bigger market for restaurants, supermarkets, banks, health center, pharmacies, fast food, cafes, washing machines etc. The village also has a gas station. In winter, in the area there is enough snow but without traffic problems since the Region of Epirus always keeps the roads open.
Hotel Amenities
Breakfast room
Living room with fireplace
Outdoor dining area
Garden
Free private parking
Pets are not allowed
Hotel Facilities
Daily cleaning service
Shared lounge/TV area
Private check-in/check-out
Luggage storage (even in case of multi-day hiking, with no extra charge)
Fast check-in/check-out
Laundry at an additional cost